Music Theatre

An Entertainment Company

proudly presents
"... powerful and fresh..."
Her World, 1995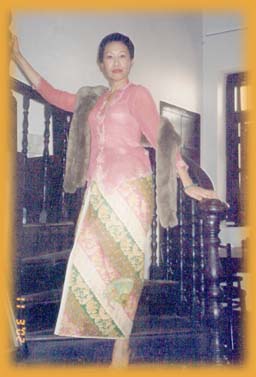 ' By now after so many years, I've made quilts for all the family. Every night, each one of them sleeps all wrapped up in my patchwork quilt.'
~ Excerpt from Emily of Emerald Hill
Reviews of Pearlly Chua's Performances:
The Star: "Emily was a real gem."
The Sunday Times: "...powerful drama."
The Sunday Star: "...a performance of tremendous courage and power."
Her World: "...powerful and fresh."
The New Straits Times: "...was a class of its own and was truly a joy to watch."
Performed by Pearlly Chua
Directed by Chin San Sooi



This production celebrates the record-breaking 100th Performance of Pearlly Chua as Emily ! Stella Kon's award-winning play, Emily of Emerald Hill takes you into the life and times of Emily, a Singaporean Nyonya matriarch who lived through the splendour and tribulations of the era which spanned through the Second World War. Emily of Emerald Hill world-premiered in Seremban in 1984, and has since earned for itself a significant and special place in the annals of Malaysian theatre!
Venue: The Actors Studio Bangsar
Level 3, Bangsar Shopping Centre, Jalan Maarof, Bangsar, Kuala Lumpur

Dates & Times:
10-13, 16-20 October 2002 @ 8.30 pm
12-13, 19-20 October 2002 @ 3.00 pm

Tickets:
RM50 & RM40 (RM2 ticketing fee not included)
10% Discount for Students and Senior Citizens
20% Discount for Groups of 20 or more people

Tel: 03-2094 0400/1400, 03-2694 5400
e-mail: tickets@theactorsstudio.com.my Information:
Tel: 012-2917306, 019-6226298,
012-2901138, 03-79806746
Websites: www.MusicTheatre.com.my ; www.emilyofemeraldhill.cjb.net

FREE English Language & Theatre Workshops:
A free workshop will be available on request for Group Purchases of more than 40 tickets.
San Sooi will conduct a workshop which will be useful particularly for students of the English Language and theatre.
Tel: 03-79806746, 012-2917306, 012-2901138, 019-6226298 to arrange for the workshops.

~ Contents ~
Emily : HerStory | A Child of Emerald Hill | Director's Chair | Becoming Emily | Preserving Peranakan Culture | Reviews | Contact